UNDER ONE WOOF DOGGIE DAYCARE

COME PLAY WITH US!! (CLOSED FOR NOW, SEE ABOVE)

At Under One Woof Doggie Daycare we accept only 12-14 dogs per day, by reservation only.  It's sometimes hard to get a spot here, since once dogs start coming they don't want to stop!

We offer an indoor rubber floored playroom with beds for napping and toys to suit everyone. Dogs are not crated except for the rare and occasional time-out. The major feature of our daycare is our 1 acre outdoor fenced play yard where the dogs can run to their hearts content.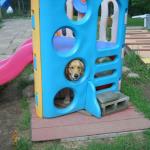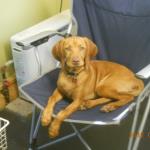 Please note that a daycare setting isn't appropriate for every dog. We assess each dog before and upon entering our daycare groups, and if it's determined that daycare is not in the best interest of your dog, or the well being of the group, we'll make the appropriate recommendations.

Each dog begins its daycare day by entering through the outdoor gate into the fenced field, no matter the season, where they greet their playmates a few at a time in order not to be overwhelmed. From then on, they are in and out throughout the day, playing chase games, tug of war, chasing the balls that we kick around the field for them and, in the summer months, playing in our kiddie pool and/or with the hose.   Indoors, they continue play, or sprawl out on the floor or the beds for naps.  If only we humans had it so good!!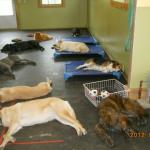 Click below for current rates and hours:

Sadly, our daycare has closed as of 10/9/20. We will reassess in the spring.